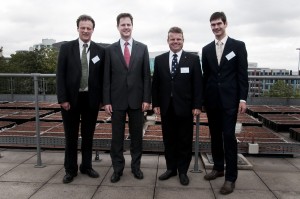 It was a great pleasure to have Nick Clegg MP start the Sheffield Solar Farm today.
The Liberal Democrat leader was invited to visit our panels on the roof of the Hicks Building.  During his visit, Mr Clegg praised the Sheffield Solar Farm:
"As we face the huge challenges of climate change and energy security, it is vital the UK moves away from its reliance on fossil fuels and onto low carbon technologies. I am proud that the University of Sheffield is at the cutting edge of renewables research.
"The Solar Farm is not only a hugely impressive work of both ingenuity and engineering, but it could prove to be a vital tool for developing the technologies that will meet our energy needs for decades to come."
Dr Alastair Buckley, project leader of the 'Farm', said: "It is an important venture as it is bridging the gap between the research lab and how solar cells are used in the real world."
We were delighted to be joined by both our academic collaborators and industrial partners, who are an integral part of the Solar Farm project.  After the launch, Nick Clegg was invited to meet our numerous partners, who discussed the benefits and complications of solar energy harvesting.