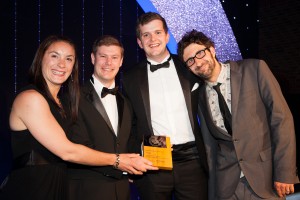 At the Business Green Leader's Awards at The Brewery, London, Sheffield Solar's Microgen Database was awarded the honour of becoming "Green IT Project of the Year 2014".   Shortlisted with companies such as Lloyd's Banking Group, QinetiQ and O2, the team are delighted that the Microgen Database has received this acknowledgment.  Dr Lisa Clark and Jamie Taylor received the award on behalf of the team, given by Environment Manager of Ricoh UK Darren Trotter and comedian Mark Watson (photo above).  The success of the project is due to the hard work of the Sheffield Solar team, who work tirelessly to collect and analyse solar PV data.  "We are overwhelmed by this award", says Dr Clark. "This is a prestigious honour and reminds us how significant our project's outcomes are."

In addition to the team award, Dr Lisa Clark was highly commended for "Young Sustainability Executive of the Year 2014".  The full award was given to Estee Chaikin, Head of Sales and Marketing of Hanergy UK, who sell their PV panels through IKEA stores.
Other winners are listed on the Business Green website.