Solar Energy in Future Societies – Past Events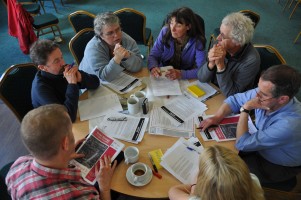 Solar Energy in Future Societies – Past Events
November 2015 – FutureBuild Conference
The Solar Energy in Future Societies group was part of the FutureBuild Conference that discussed sustainability of housing, renewable energy and community energy schemes.
March 2014 – Workshop
We had a great turnout for the March 2014 workshop. Thanks to all the participants that joined us for a dicussion about jointly working on a report and a public presentation on our work together.
November 2013 – Workshop
The Solar Energy in Future Societies team hosted a workshop this November 9th at the Leisure Centre of Steel Vale. The event was a success as we had University of Sheffield architecture students giving a presentation on a Live Project they did on a community centre of Steel Vale as part of their master's program. We also had some of our project participants give an update on their research efforts to the rest of the group.
September 2013 – Workshop
During the September 2013 workshop, the researchers toured the recently opened Steel Vale Leisure Centre and hosted a workshop where the local project partners defined the progress of the ongoing projects. Visual material (posters) prepared by the researchers, distilling what has been discussed so far, was brough to the workshop for the participants inspection. During the event, corrections and additions were posted/written directly on the posters.
December 2012 – Workshop
On the 24th November 2012 over thirty residents of Steel Vale met with our research team and invited researchers from the Sheffield Renewables group (http://www.sheffieldrenewables.org.uk/) to talk about the future of energy in Steel Vale. The event saw a series of great discussions both in the seven small groups and during the open floor debate. The questions of community ownership of energy generation was hotly debated. At the end of the day the participants proposed a number of questions and issues they would be interested in exploring together with the researchers from our team. The aim of the next workshop on the 16th February 2013 will be to create researrch projects for our team and the residents on the basis of these questions. This will lead to collaborative research projects about the future of energy in the valley.
August 2012 – Open House at Stocksbridge's Library
A local newspaper Postcode Gazette wrote the following about our Steel Vale 2050 Workshop "Residents from Steel Vale and surrounding areas were treated t a fascinating morning on Saturday 1st Sept at the meeting room at the library, by member of Sheffield and Durham University's Steel Vale2050 project team….. It is a conversation with local people to inspire ideas and encourage community projects."