Solar energy in Future Societies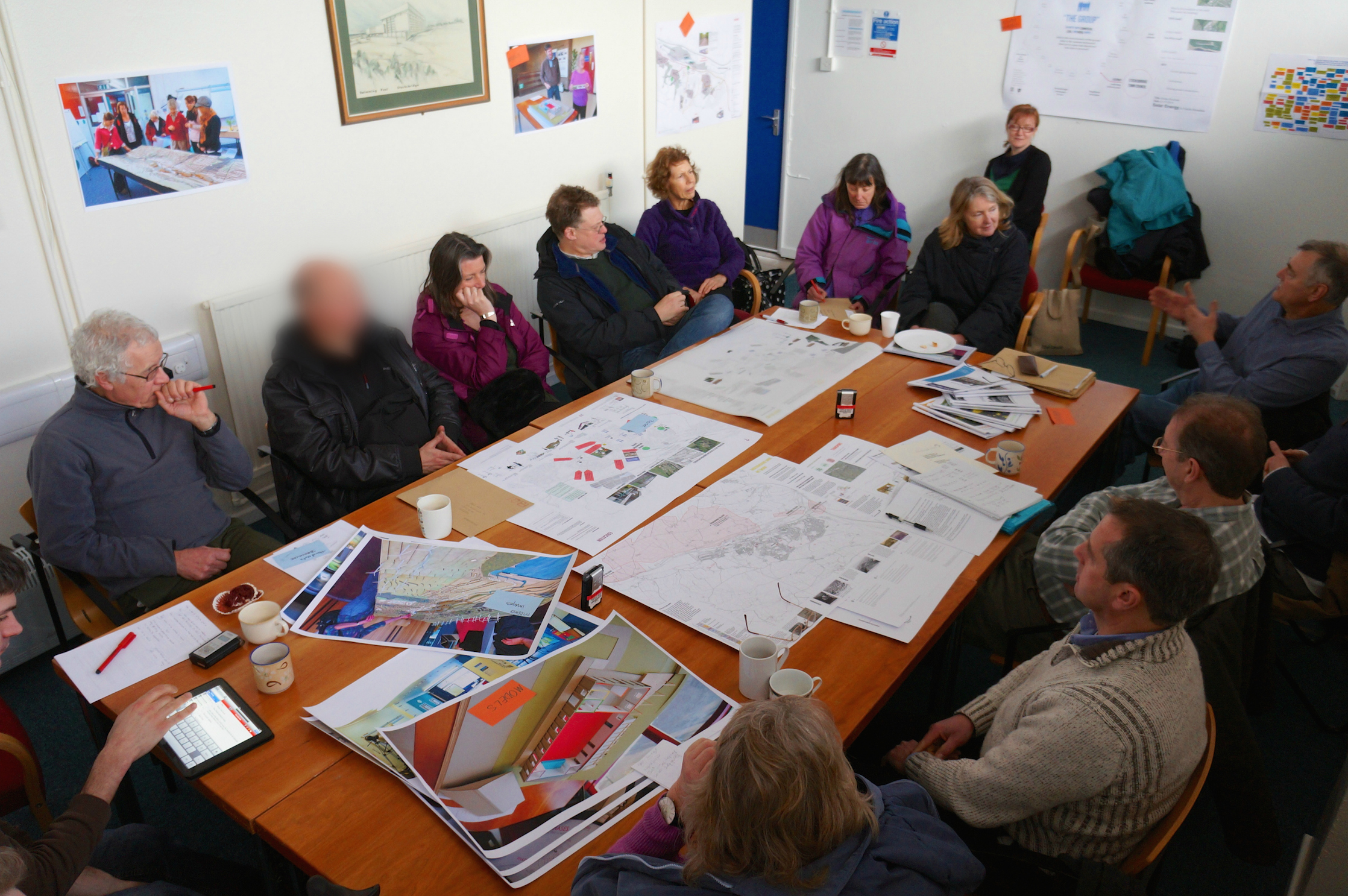 A public-participatory research project
We started working in Stocksbridge with the premise that we could influence the development of future solar energy technologies by working together with a public, incorporating their knowledge, expertise and values into the research. We imagined that such a public-participatory research process would be more creative and innovative than one hidden in the laboratory. Our science hypothesis mirrors the motivation for community based energy – that local community knowledge will lead to innovative local solutions.
Our first workshops focused on developing future visions for energy in Stocksbridge (i.e. how would you power Stocksbridge in 2050?) that then framed the development of ideas and plans for renewable energy projects and technologies. As well as focusing on renewable deployment, local concerns arose around pressing issues: the leisure centre threatened by closure; a need for better local transport; regulation of wind turbine locations; influencing local commercial and industrial organisations to be more efficient etc.. These other foci were seen as the value of community energy.
Our work over the last two years has led us to question the framework that incentivises community renewable energy deployment in the UK. We find that the feed in tariff and renewable heat incentive create opportunities for deployment for individuals, and with some hard work, and in certain cases, community organisations, but that they do not foster creativity for locally optimised solutions.
Possible renewable energy options for Stocksbridge
Stocksbridge is a town of 15,000 situated in a steep sided valley north of Sheffield and on the edge of the Peak District. We believe it could satisfy a significant part of its electricity and heat demand using solar roofs and fields, wind turbines on the surrounding hills, heat from the old mines under the town and/or the waste heat from the local steel mill.
Our estimates of the energy payback show such schemes make excellent energy economic sense.However, where is the money to do this? Who actually owns these resources? Has anyone the legal status to make a start? And what do volunteers really want to achieve when setting off on such a journey?
Who are we?
The Solar Energy in Future Societies project is composed by a multi-disciplinary group of researchers from the University of Sheffield and Durham University. We combine expertise from architecture, engineering, geography, social science and physics.
The project brings together physicists (Alastair Buckley, Jose Mawyin), architects (Prue Chiles), social scientists (Anna Krzywoszynska, Matt Watson, Nicky Gregson), and a group of residents of Steel Vale around issues related to the future of energy systems. The project methodology is reflected on by a project ethnographer (Helen Holmes).
For two years this group has worked together through a combination of deliberative and action-oriented methods, establishing a hybrid space in which interests, knowledge and competencies of academics and residents were place in an iterative dialogue.
The project explores the potential in energy in generating community life, and the challenges and opportunities of renewable energy technologies in that context.
---
Stocksbridge Resources: Links to material (posters, workbooks, promotional brochures, etc.) prepared as output between researchers of the group and residents of Stocksbridge.
Academic Outputs: Publications and other outputs from the project.
Past Events and Media: Some of our past events and images of workshops.
---
We thank the support of the Engineering and Physical Sciences Research Council (EPSRC) for the grant that made this project possible. We give special thanks to the many researchers and participants that gave of their time to work with us.
---